Visiting Paul Leary | The Making of Stompbox Book
When Eilon stopped by to shoot the illustrious pedals of Butthole Surfers guitarist and esteemed producer Paul Leary at his Austin, Texas-area home/studio compound, there was no shortage of music history lying about. It's all in a day's work (and some key e-commerce finds) for Leary…
There was evidence, for example, of when famed Led Zeppelin bassist John-Paul Jones gave Leary a vintage green Soviet Big Muff as a gift, the gesture bringing everything full circle.
"The Green Muffs were always my fave, and John-Paul's was a really good one," Leary explains. "Besides, Led Zeppelin II was the first album I bought with my own money. After I heard "Whole Lotta Love," I skipped school the next and took a bus to the mall to buy the album. It was $5, and I only had $4. I was pissed, but I came back the next day and then wore it out."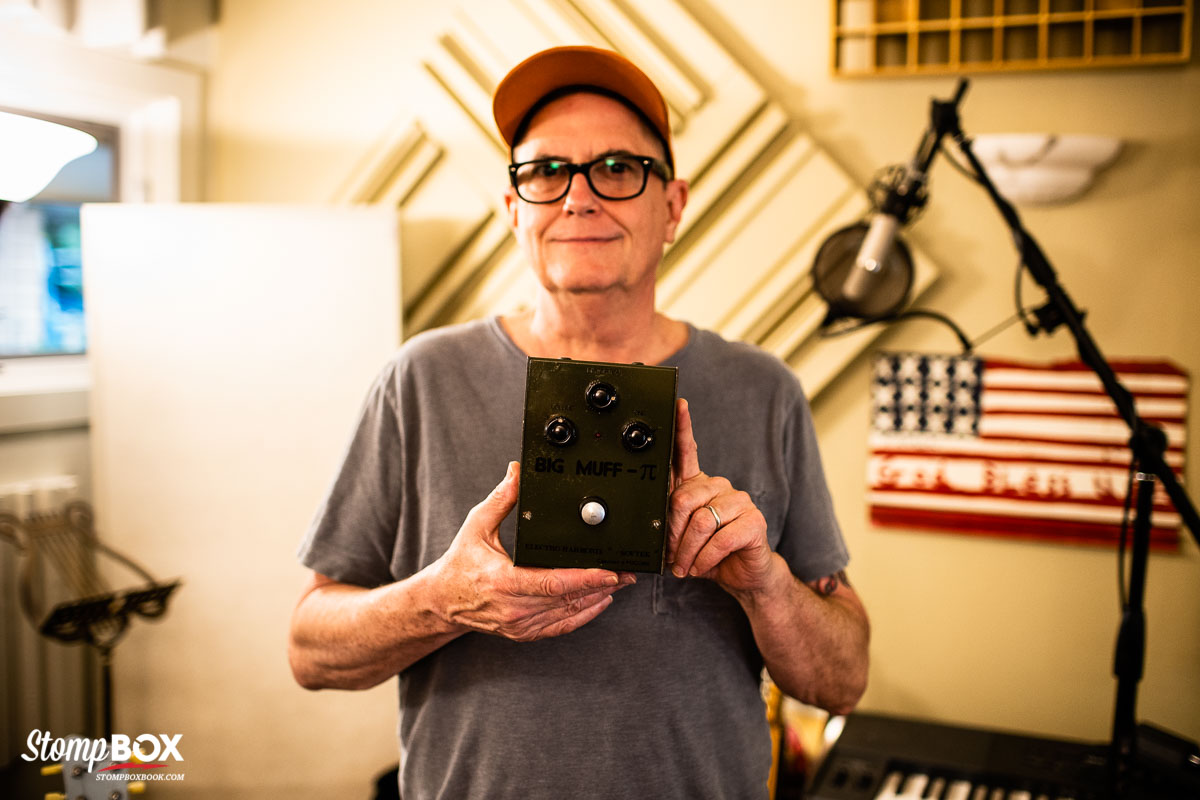 Jones and Leary had met when the British rock veteran produced the Buttholes' 1993 Independent Worm Saloon album. During those sessions was when Leary first encountered Jones' iconic Muff. It would, in fact, provide the distinctive sound for the memorably trippy, violin-like guitar solo on the Buttholes' first hit single, "Pepper.""I went down to a studio in Greenwich Village one afternoon to do overdubs," Leary recalls. "I remember Vernon Reid was working in the next room. We'd already spent so much time recording, I only had one take for my solo, and I had no idea what I was going to do. So I grabbed a Les Paul, plugged it into an old 'blackface' 1×12 Fender Vibroverb that was there, dimed John-Paul's Muff, played the solo, stopped the tape, and dropped the mic. That was it, and it's been my whompfy distorted tone since."
The Muff came back into Leary's life after he'd recorded a session for one of Jones' solo projects at a studio in the Texas Hill Country. Jones needed a solo, of course, and Leary nailed it once again in one take.
"He didn't even let me listen to the song first, bit there's something to be said for spontaneity," Leary notes. "The next time he came through town with his band, backstage he handed me the Muff and said, 'This is for playing on my record.'"
"I remember first seeing those pedals in the store for $60 and never was impressed – then I played one, and got a lot more grateful to have it," Leary continues of his beloved Zep-blessed green Muff. "It's got gusto: it adds whoomph on the bottom end, and when you play a note, you hear it. The setting combine in interesting ways – but to me, there's no other setting on a Muff than just turning all the knobs all the way up. That's when it sounds good, with the most warmth, sparkle, and sustain. It stays silky on top, but maintains the sub tones and translates finger dynamics with integrity. Mine actually stays at 10 all the time: the old sweat in there makes it hard to turn the knob anywhere else."
Then there's the specific Tube Screamer Leary never leaves home without: a vintage Overdrive Pro TS808 – i.e., the very first one ever made, and perhaps the model's most beloved incarnation for its legendarily subtle tone alchemy.
"I've gone through a lot of Tube Screamers both new and old, and this one just did it for me," he explains.
It's been so long, Paul Leary can't remember when his romance with the Tube Screamer began. "I don't know when I got it, exactly – sometime in the '90s," the Butthole Surfers' veteran six-string deconstructionist explains. "But once I did, it never left my pedal board. It's really beat up now, actually."
According to Leary, his Overdrive Pro TS808 can be heard on classic '90s Buttholes albums like Independent Worm Saloon. "In the studio, it really gives a bit of punch – and with the volume up mid-way, it makes for a very pretty, clean chord sound," he notes. "I like to set it the level at about halfway and tone at ¾, with overdrive all the way down. Plug in a tube amp set at clean, and you'll get lost in it quickly. You can get pretty tones with it, with very little in the way of drive artifacts. it's got a very warm compression that squinches off the very top and bottom in a most musical way. I just leave it on all the time. It doesn't do a whole lot – but what it does, it does just so right."
Likewise, Leary's Pro Tools-equipped home studio is perhaps more state of the art than most "professional" ones. He runs a "highly modified 2010 Mac, loaded up with excessive memory" in combination with a Burl Mothership Interface, an ADL version of the Fairchild 670 tube compressor, two Pultec EQM mastering equalizers; a Tube-Tech multiband compressor, and a Retro stereo tube compressor prototype. Just don't get any ideas from the bongos and congas littering the floor.
"Anything short of drums can be done here, in my house," Leary notes. "I did recently do a cover of 'Mohawk Town' by The Vandals and got Josh Freese to play drums, so we had to go elsewhere for that, but otherwise I do everything here."
The thing is, those fancier studios don't have a nude Winston Churchill doll, for that matter, or eight works from acclaimed modern-primitive artists Roy and Howard Finster. "I've been collecting their stuff for ten, fifteen years," Leary says. "I used to have a really neat art collection – Mark Ryden oils, Robert Williams – until I had to sell it off to pay for a divorce."
Leary's home indeed serves as a treasure trove/presidential library for his many finds, musical and otherwise. He's all grins showing off a new-old-stock Danelectro: "I got that off eBay for $1,000! The ad said the finish was worn off on the neck – but that's just the way they painted 'em. It's also got a three-position toggle, with the third position running in series like a big giant humbucker – a real Jimmy Page kind of thing." Then there's the Harmony H22 "bat bass" Leary covets. "It's got the DeArmond Gold Foil pickup and intonates perfectly," he says. "It's got a great, rich tone that's ideal or blues. I had my guy Bill Giebitz set it up real good – now it's perfect all up and down the neck. I play it all the time! I have crap all over the place – there's always new eBay purchases and things I find I just have to have."
---
Full interview and photo of Paul's ONE chosen pedal will be featured in the upcoming Stompbox Book, coming Summer 2020.
Get on our newsletter for book updates.