Dan Epstein | Meet The Team
Stompbox's new editorial director, Dan Epstein brings many perspectives to the table as a music enthusiast who's also a lifelong guitarist, music writer, author, and baseball fan. How do those things all connect and overlap? Dan walks us through his multifaceted career here, explaining his creative process, guitar and pedal preferences, and many other interesting snapshots into the life of an experienced music writer and muso alike. 
Currently based in Greensboro, North Carolina, Dan is co-producing a documentary film called Baseball Furies. Featuring musicians who are baseball fans, and baseball players who are music fans, the film (tentatively due for a 2020 release) digs into the evocative  crossover between music and baseball that he's explored throughout his life. 
You've written many different types of cultural pieces. How did you get started with music writing to begin with?
It actually started in high school. I was a big fan and reader of Rolling Stone, Creem, and Trouser Press. Back then (the early '80s), that was where I got most of my information about pop music, as well as the kind of stuff I was interested in that wasn't in the top 40. I was into those magazines and into the attitude that those writers had, so I started offering up my services to my high school paper; as the resident record reviewer, I'd write about whatever new records I was digging. I did more of that in college, and then took a break from writing after I graduated and moved back home to Chicago; I was putting all my creative energy into playing with my band, Lava Sutra, and trying to "make it" in the music biz. We had a good following in Chicago, but never had much luck with attracting record label interest. In 1993, right around the time I was getting really fed up with our lack of progress, a guy I knew in Chicago started a local music and culture magazine. He shopped at the record store I was working at, so he knew that I knew a lot about music (and was very opinionated about it), and he asked me if I would come on board as his music editor. It was an unpaid thing, but I got all the promo CDs and concert tickets that I could handle. So after I gave up on trying to make it as a musician, I dove wholeheartedly into the writing world. 
What were some of those first high school album reviews? 
Elvis Costello's Imperial Bedroom, I remember reviewing that when it came out. I was also really into The Kinks (still am!), so I wrote about their State of Confusion record. I also remember writing about Joe Jackson – in particular, both his Night and Day and Body and Soul records. I think I may have reviewed Springsteen's Nebraska, too.
Tell me about some of the bands you were in, back in the day.
I've been playing guitar in bands on and off since the mid '80s. The only ones that left a recorded mark were Lava Sutra, with whom I waxed a couple of self-released singles in the early '90s, and The Jupiter Affect –  a great psych-pop band led by Michael Quercio of Three O' Clock,  with whom I recorded an EP and a full-length album, Instructions for the Two Ways of Becoming Alice, in the late '90s. We recorded the latter with Earle Mankey producing (Sparks, 20/20, Concrete Blonde), which was just an incredible experience. The album didn't get much attention upon its release, and it's been kind of lost to the ages, but I'm still really proud of it.
You write extensively about music and baseball. Is there an overlap in your creative process in how you approach these two topics?
Well, I was a baseball fan before I knew anything about popular music. At some point, however, I realized that I use the same part of my brain for absorbing music that I do for baseball – not just for the game I'm watching in front of me, but the history of it. If you look at the back of a baseball card, there are all these numbers and years listed, and you can see what teams the player whose card it is played for. It's similar to looking at the discography of a musician who's had a long career: You see the different years that the releases came out; you see what labels they recorded for; you see who was in their band, or who they were in a band with. That kind of information, in both cases, has always been very easy for me to absorb and retain. 
I've also been working on and off for the last year and a half on a documentary film called The Baseball Furies. We're interviewing musicians who are really into baseball – and in some cases, baseball players who are really into music – basically trying to find out where and why there is this crossover. The key thing when it comes to both bands and baseball teams, I think, is that you're all in it together: whether you're the bass player or the shortstop, everyone has a role to play and a job to do. There's a focus on winning, obviously, but in order to achieve that success, you have to hold your end up with your individual duties. At the same time, intangibles like soul, desire and chemistry come into play; you can put a band or team of "all stars" together, but it won't necessarily result in memorable music or a championship season.
Your "10 Things You Didn't Know" columns in Rolling Stone about different albums or figures are super interesting. Your recent piece "Jimi Hendrix's 'Electric Ladyland' 10 Things You Didn't Know"  is pretty applicable to the Stompbox project. How do you approach these columns? 
I pretty much approach it (like all the music writing I do) as a music fan. With that piece, for example, Jimi Hendrix is an artist and an album I'm very familiar with. When I do research into the making of one of his albums and find stuff I didn't know about, I assume that most people don't know about it, either, unless they're really die-hard Hendrix fans and have read everything about him. 
I usually try to discover fresh anecdotes. Digging deep into certain songs, I look to find information on what was going on during recording, and what was going on in the minds of the artists. With the case of Jimi, it was difficult to write that piece because Jimi has a) been dead since 1970 and b) he didn't give a lot of printed interviews back in the day. There's really not that much stuff out there in the archives, compared to if I was writing about someone like, say, Kurt Cobain – who also died at twenty-seven, but gave a shitload of lengthy interviews during his short window of success. There was a lot more media focus on popular music during Nirvana's heyday than there was during Jimi's.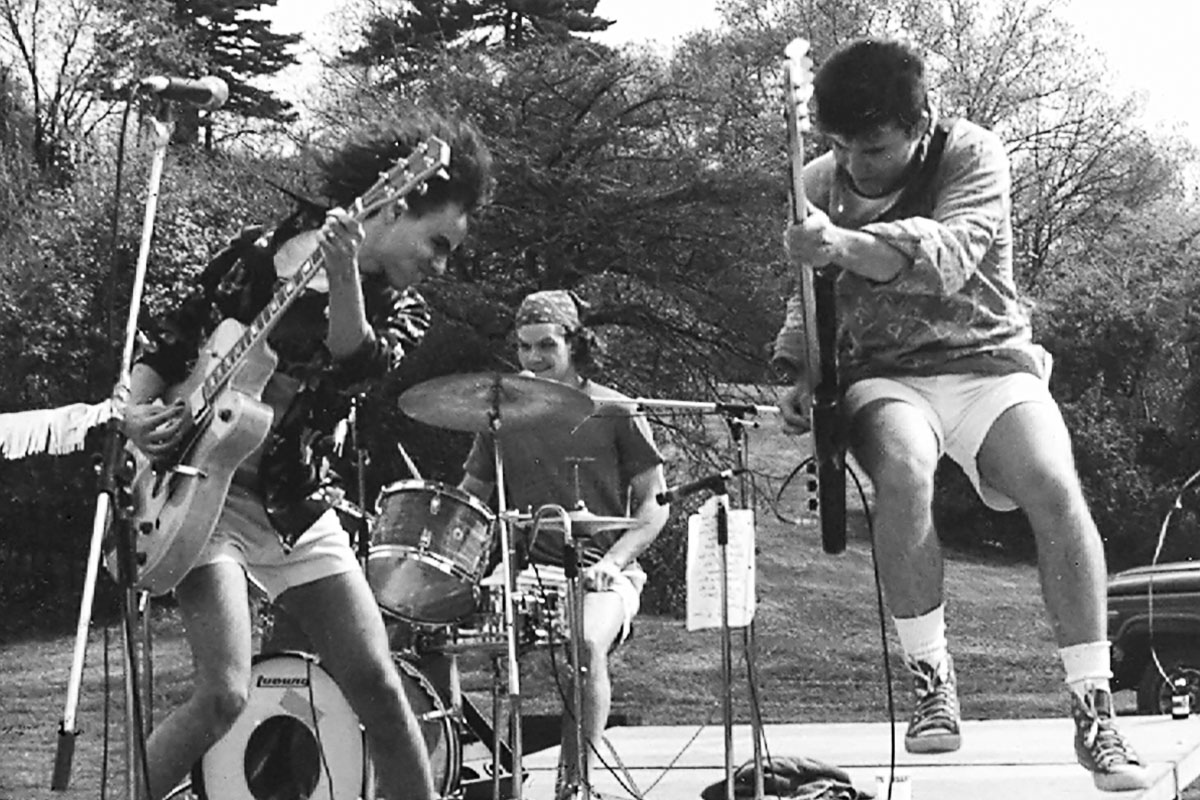 In terms of your general writing style, who are some of your influences?
I think when most writers start out, they try to emulate somebody else. I was definitely influenced by the great Lester Bangs, and the early '70s Creem Magazine style of stream of consciousness with lots of jokey asides. But the more I wrote, that style didn't feel natural to me. Nowadays when I write, I try to do it like I'm carrying on a conversation with somebody who can relate to what I'm talking about, and just let it flow in my own voice. I care about my choice of words, of course, but at the same time I'm not trying to impress or dazzle with wordplay, or whatever. I'm just trying to write something good and interesting and hopefully insightful that will hold up down the line. A lot of the things I wrote when I was starting out are kind of embarrassing now, to be honest. 
Are there any pieces you wrote that stick out as something you're particularly proud of?
I'm probably proudest of writing my baseball books, Big Hair and Plastic Grass and Stars and Strikes. I feel like those really helped to change the conversation about baseball in the 1970s. Before I wrote Big Hair, there was a pretty pervasive attitude that this was a weird, anomalous era in baseball history that somehow besmirched the National Pastime's feel-good image. But I sincerely felt that, for all the tumultuousness and controversy of the era, the 1970s were an incredibly exciting, important and even inspirational time in baseball history; and after Big Hair came out, a lot more attention (and respect) began to be paid to that period of the game, and people began to better understand how its changes related to a larger cultural context. In retrospect, I feel like my work gave a lot of people – fans and writers alike – permission to appreciate '70s baseball on its own funky terms, and that's immensely satisfying.
What have been some of the low points for you in this long writing career?
I've certainly had some bad interviews along the way; sometimes the situation was simply not conducive to an in-depth conversation (like road construction being done right outside the room where we were talking), and sometimes the people I was interviewing were just exceptionally, unnecessarily unpleasant. [Laughs] And that always sucks – especially when you're interviewing someone you really admire, whose music has meant a lot to you, because it can affect how you approach their music from then on, and how you listen to it. Some of those incidents are pretty funny in retrospect, however. I once called up Arthur Lee at the exact time his manager suggested, only to have Arthur angrily chew me out because I'd interrupted his viewing of The Beverly Hillbillies. In retrospect, that's kind of hilarious – but at the time, it was utterly mortifying, and it took me a while before I could listen to Love (one of my all-time favorite bands) again without it stinging.
"I don't have "fast" hands, so I've always been drawn to players who are more visceral and emotional than dazzlingly proficient in their playing. Pete and Neil have taught me so much about how to communicate with just some well-chosen power chords and a couple of artfully bent notes."
What do you listen to these days? 
I go all over the place with my listening. I'm currently on a big '60s/'70s easy-listening kick, getting deep into stuff like Herb Alpert and the Tijuana Brass, Alan Hawkshaw, and I Marc 4, the latter of whom were an incredible quartet of session musicians that played on a ton of groovy Italian film soundtracks. But I'm also on an early '70s hard rock jag, inspired by getting the chance to interview the legendary Mick Box of Uriah Heep for Stompbox.
Can you list your top three pedals?
I honestly didn't know that guitar pedals even existed until I picked up my first copy of Musician magazine while I was in high school. Up to that point, I just figured that you had to be an especially talented guitarist to get a really distorted and/or crazy sound out of your guitar and amp!
As much as I love and am fascinated by effects pedals, I think my original misconception about guitar effects has somehow influenced my approach to them. I spent my first four years as a gigging guitarist using only a DOD Distortion FX55 and a Dunlop Crybaby wah, and to this day I've never had more than four or five pedals at a time on my board. I just don't want there to be too much between my hands and the sound that's coming out of my amp, I guess. My favorite stuff to play is '60s garage and early '70s hard rock, where you really only need a handful of good tools to dial in the right sound.
Two pedals that have really stood the test of time for me are my Vox V847 wah and my Vox V829 Tone Bender with germanium transistors, both of which I've owned since the '90s. The Catalinbread Naga Viper treble booster, which I've owned since 2014, also continues to blow my mind every time I kick it on.  
What are your favorite guitars?
Like most guitarists, I've bought and sold many guitars throughout my life. These days, I'm down to three. I have my Hondo Fatboy – an early '80s copy of a Gibson L5 that I've owned since I was eighteen; my 1997, made in Japan '50s reissue Fender Telecaster, which I bought new off the rack in '97 (and then swapped out its pickups for a Seymour Duncan Antiquity Tele set); and my stock 2007 Gibson Angus Young signature SG. They're three very different guitars, but they cover all of my musical moods and needs. Of the 15 or so guitars that I've sold, there's only one that I really regret parting with: my mid-'70s Ibanez Custom Agent, which I owned for about three years in the early '90s. It wasn't in immaculate condition, but it was still a great-looking and-playing guitar, and the neck pickup really sang. But at the time I sold it, its look and sound didn't really fit the direction of the band I was playing in – a mod/psych power trio called the Fancy Trolls – and I couldn't afford to keep it and buy a Rickenbacker. Custom Agents have, of course, gone up considerably in price since I bought/sold mine, and I've yet to run across one with as sweet a cherry sunburst as the one I had.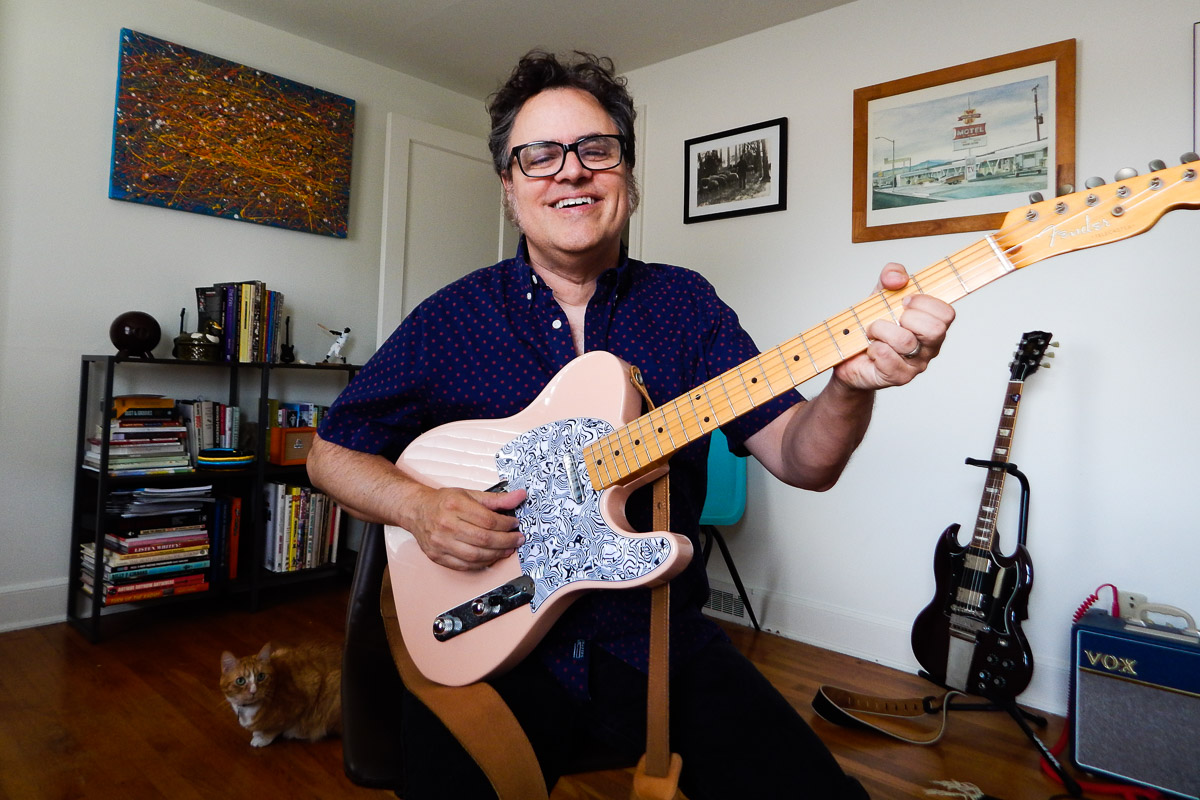 How about your top three guitar players? 
Actually, I'm going to have to go with four. As far as major influences on my own playing, Pete Townshend and Neil Young are at the very top of the list. I don't have "fast" hands, so I've always been drawn to players who are more visceral and emotional than dazzlingly proficient in their playing. Pete and Neil have taught me so much about how to communicate with just some well-chosen power chords and a couple of artfully bent notes.
The other two, Ernie Isley and Brian May, have had little if any influence on my own playing. Their respective sounds are so personal and immediately recognizable, I would never attempt to imitate them, even if I could. But every single time I hear either of them play, it always hits me straight in the heart center and elevates my mood. It's the very definition of musical magic, and it's why 1970s Isley Brothers and Queen LPs are always in steady rotation at Epstein Manor.
Who are some of the notable artists and bands you've worked with over the years?
In my twenty-five-plus years as a music journalist, I've interviewed or otherwise worked with everyone from metal superstars to obscure indie rockers. Some of my favorite and/or most memorable experiences include writing cover stories on Metallica, Marilyn Manson and Mastodon for Revolver: test-driving a car (and getting stuck in the desert) with Dave Wyndorf of Monster Magnet; going off-roading over the lawns and Christmas displays of suburban Arlington, Texas with Dimebag Darrell and Zakk Wylde at five in the morning; doing the video interviews for Slipknot's Voliminal: Inside the Nine DVD, and getting my ass utterly kicked at golf by Chris Fehn in the process; Lemmy of Motörhead and I getting kicked out of a hotel for drunkenly singing Scott Walker songs on the balcony; having tea with Dave Davies of The Kinks; and duetting on "Some Velvet Morning" onstage with Nancy Sinatra.
Tell me about a specific interview you've conducted that really sticks out to you.
I feel very lucky because I've had so many great interview experiences, and what's really cool about the Stompbox thing is that this project is giving me a chance to interview a number of people whom I've long wanted to talk to. In the case of the William Reid interview I did for the book, he's a guy that I once had a really lousy interview encounter with – but twenty years later, he turned out to be really lovely.  
My favorite story is probably the first time I interviewed Bobby Womack, who was truly one of the great soul singers, and a great guitarist, as well. It was the mid-'90s, and he was pretty much under the radar at that point, at least in this country. I was supposed to interview him about a reissue campaign of some of his early '70s albums, and was under the impression that I was going to meet him at his office for the interview. I go to the address, and it turns out to be an apartment building in the San Fernando Valley. I knock on the door, and he opens it; he's standing there, barefoot in boxers and a tank top, and he greets me with a friendly "Hey, I'm Bobby!" in that raspy voice of his. I thought I'd be there for maybe 45 minutes, but we wound up talking for three hours; and just as I was packing up my tape recorder and getting ready to leave, he was like, "Hey, man – you want some barbecue?" I guess he'd already ordered in this great spread from a local BBQ joint, and decided he wanted to share it with me. I sure wasn't going to turn that down! It was really cool, because this was pretty early in my professional career, and I was kind of nervous going into it because he was one of my idols. But he treated me so graciously and warmly, like I was an old friend instead of just another interviewer. And that's definitely something I'll always remember. 
Catch up with Dan's writing at Big Hair and Plastic Grass
---
Get on our newsletter for book updates.