Visiting Dean Ween | The Making of Stompbox Book
Some things are just worth the wait. 
For two years now, we've been trying to track down Mickey Melchiondo Jr.—better known as Dean Ween, co-founder and lead guitarist of legendary alterna-weirdos Ween—for a Stompbox interview. When we finally got through to him last fall, he seemed totally into participating… but proved rather elusive when it came to actually nailing down a date for an interview and photo shoot. Finally, it took legendary P-Funk guitarist Michael Hampton, who has been collaborating with Mickey for several years now, to give him a nudge and pull him back into our orbit. (Thanks, Michael!)
"Sorry, I've been a flake," Mickey laughs, when Stompbox arrives at his home studio in scenic Lambertville, New Jersey, located just across the Delaware River from New Hope, Pennsylvania, where he grew up and founded Ween with high school pal Aaron Freeman (a.k.a. Gene Ween). "Musicians are flakes, man."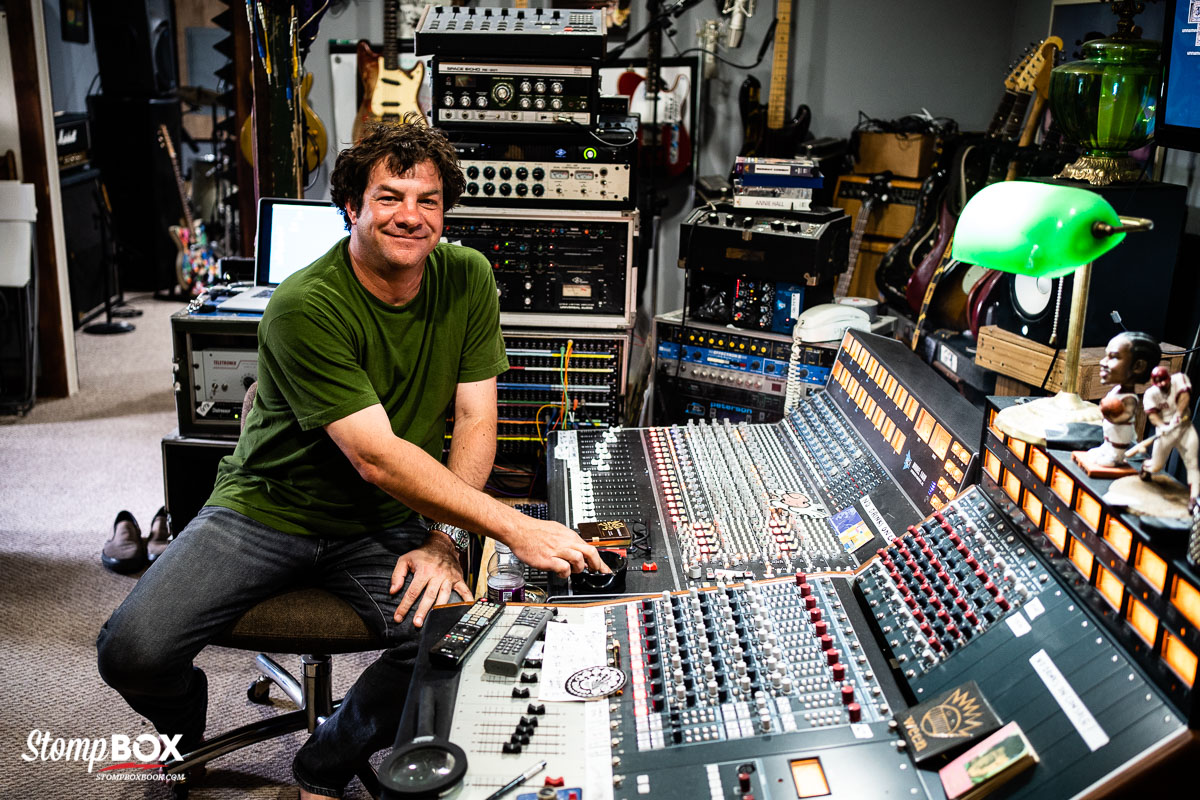 It's all good, though, because Mickey also turns out to be about the mellowest and funniest dude you could ever ask to hang out with. He's a gracious host, as well—not only does let us photograph his treasured Electro-Harmonix Micro Synthesizer for our book, but he also gets us tanked up on high-end soda as he cheerfully leads us on a laidback tour of the place. Dubbed Deaner's Studio, it was built in 2017 by Mickey, who recorded the entirety of the Dean Ween Group's Rock2 album here. "I've always been into home recording, with four-tracks and stuff like that," he says. "And now I can do all my home recording here, with a Neve console!"
"There would be no Ween without Electro-Harmonix, man."
The studio has a definite lived-in "clubhouse" feel to it. Packed to the gills with guitars, amps, pedals and vintage recording gear, the place is also casually strewn with books and LPs, and haphazardly decorated with music posters, baseball memorabilia and fishing trophies. (Captain Mickey, his alter-ego, leads charter fishing expeditions off the Jersey Shore.) It's a very comfortable creative space, and Mickey clearly enjoys spending time here. Michael, his son, also seems to dig it, and he happily noodles away on some keyboards while Mickey shows us around.
"There would be no Ween without Electro-Harmonix, man," he enthuses, pulling out his battered, scuzz-encrusted Micro Synthesizer. "Because of the Micro Synth, I got turned on to the whole Electro-Harmonix thing—I had the Memory Man, the PolyChorus, the PolyPhase, and we used them all the time. Back in the mid-Eighties, you could find them at pawnshops for like, twenty or thirty bucks. Nobody wanted them back then. And why would they? People were into stupid stuff like seven-string guitars and Floyd Rose locking tremolos, and then all those shitty, cheaply-made digital effects that came along. And we were never into that."
"My attitude with pedals is the same as with guitars," he says. "If I can get a song or two out of it, and never use it again, it's still totally worth it. But occasionally, like with the Electro-Harmonix stuff, you find things that just become part of your permanent arsenal."
(Slideshow: click for captions)
---
Full interview and photo of Dean Ween's chosen pedal will be featured in the Stompbox Book, coming fall 2020.
Get on our newsletter for book updates.