Truetone Music | Behind The Counter
Name and age
Paul Ulino, 53. Mike Randle, 51. Lou Castillo, age ain't nothing but a number.
Your story & background
Paul: I was born and raised in New York City, and started in music retail in 1986. I spent sixteen years on Manhattan's 48th Street strip of famous music emporiums, working at legendary stores like Alex Musical Instruments, We Buy Guitars, Sam Ash, Manny's Music,  and Rudy's Music before moving to Los Angeles in January 2002. I started working at Truetone Music in October of 2002.
Over the years, I've been fortunate enough to meet many of my favorites – from Tony Iommi, Jeff Beck, Richie Blackmore, Stevie Ray Vaughn, and Billy Gibbons to Dimebag, Angus and Malcolm Young, Prince, Lemmy, James Hetfield, Kirk Hammett, Jimmy Page, and many, many others. I've been super lucky! 
I've also toured with bands here and there. Some of the artists I've worked with on the road include Dio, Pantera, Biohazard, Sepultura, Yngwie J. Malmsteen, Nuclear Assault, Dark Angel, Type O Negative, Life of Agony, Low Meato, EZO and others. I'm also a Star Wars nut, and enjoy all things nerdy.
Mike: Truetone opened twenty or so years ago. Ace Music over on 17th street in Santa Monica had been in business for over three decades, and by 1996 was finally closing its doors and shutting down the business. Around that time, a couple of the guys who worked at Ace decided to open their own guitar shop. I was a customer of Ace Music since high school, so I naturally became a big fan of Truetone, as they were folks I knew; plus, they were the first store in L.A. to carry boutique pedals like Fulltone, ZVEX, Menatone and Demeter. 
For thirty-plus years, I've also played in a variety of bands – Baby Lemonade, The Michael Shelley Band, Love with Arthur Lee, and The English Beat among them – and I've used different pedals for each band to keep my sound fresh and exciting. The main pedal svengali at Truetone is David Jenkins, who's been here since day one. Dave was the guy who turned me on to pedals and pedalboards.
Lou: I've been working at Truetone for fourteen years. In my spare time, I'm a mediocre local musician (at best), television watcher, vibe technician, and doughnut eater.
What instrument(s) do you play?
Paul: Guitar, bass, and triangle.
Mike: I play a '72 Fender Thinline Telecaster; a '59 Danelectro twelve-string electric; a 1990 Epiphone Gold Sparkle Casino; and a '56 Danelectro "Dolphin headstock" bass, with flatwound Dano strings. I've toured as a guitarist as well as a bassist. I also play keyboards, and from time to time play live with bands doing that.
Lou: Guitars, mostly electric and acoustic…
What are some of the craziest walk-ins you've experienced while working at the store?
Paul: Many years ago, I was sitting behind the counter in the front of the store, shortly after opening – a time that's not normally busy. The front door beeped, signaling someone was walking in, and I turned to greet whomever it was. Two guys walked in: one very large man and one very small man, the latter of whom was wearing what seemed to be a black silk shirt and slacks. 
After doing a double take, the smaller of the two men turned out to be none other than Prince, and the much larger man was his "assistant." I've heard from friends of mine who have worked for Prince here and there, and also through the media, that there were rules in dealing with him. You don't look at Prince, don't talk to him, only speak when spoken to, yada, yada, yada. But I didn't really care about any of that. I just looked at him and said, "Hi, how's it going?," like I would say to anyone. He gave me a little bit of a smirk, as if to say, You know who I am, yet you still dare speak to me?
I then asked Prince if I could show him anything. He said, "Not right now," so I left him alone to meander around the store on his own, with his assistant in tow. He grabbed a couple of guitars from the wall and played each one very quickly, and then checked out some amps, all never asking one question. After about a half hour or so, his assistant fetched me, so Prince could tell me what he was taking. He said, "I'll take that and that and that and…." He pointed to about seven or eight pieces; I recall a vintage Ampler Fliptop plus a few other vintage pieces, and some other things I can't completely remember right now. His assistant gave me a business card with a name on it, and a Minnesota phone number. We shipped everything to an address given to us by whomever picked up the phone.
The total came to about $12,000. After Prince paid with a black American Express, the little man in the black pajamas exited. This was not Prince's only visit to Truetone Music; he did come back on three other occasions, if I recall correctly, but that initial encounter was one I will never forget.
Mike: One time, Billy Sheehan ran in and said, "Gimme a wah-wah pedal. No box, just that one right there!" I ran his credit card, he signed it, and he ran out the door!
We've had every musician and actor you can imagine come here, shop, and hang out. We've got lots of regulars like Chris Robinson, Gavin Rossdale from Bush, Dave Alvin, Wah Wah Watson, Daryl Jones, John Mayer, and the late, great Walter Becker, just to name a few. They always seem to be on their best behavior when they come to Truetone – the only exception being Prince, who was not gonna not be Prince… 
Wendy Melvoin, guitarist of The Revolution and Wendy & Lisa, is a regular Truetone client. She was the person who actually told Prince he needed to check out the store, so he came down a few times to buy pedals and amps. According to a couple of my co-workers, legend has it Prince came in once wearing a terry-cloth tracksuit, and socks with split-toe sandals. Trailed by his big bodyguard, as he approached the front counter, Prince started whispering in the bodyguard's ear. Then the bodyguard turned to one of my co-workers and said, "Prince needs a guitar pick." The co-worker then handed the bodyguard the pick, who then handed it to Prince. 
The bodyguard then instructs the folks working behind the counter that day that Prince wants to try some pedals, and wants a good sounding amp to try them on. My other co-worker then leads them into one of the private rooms we have that we call "The Dr. Z Room," because it's stocked, wall to wall, with Dr. Z amps. 
The room immediately gets prepared for him, with pedals plugged in and amps warmed up, and Prince makes his entrance. He immediately looks at the amp, then looks at my co-worker, and then back at the amp. 
"What does that 'Z' mean?," Prince asks. "And why is it on that amp?" My co-worker explains to him that it's an amp made by Mike Zaite, an amp maker from Cleveland who happens to have a Ph.D. in Engineering –  hence the name "Dr. Z." Prince says, "The 'Z' looks like a sign of the devil." My co-worker asks him if he'd prefer to play through another amplifier – I believe he suggested a Rivera amp. Prince reportedly responded, "As long as it doesn't have that 'Z' symbol on it, then fine."
After Prince finishes up, he tells my guys which amps and pedals he wants, and then heads to the parking lot, where a black, tinted-window town car was waiting. There's a musician shopping in the store who's a Prince fan, and this person runs to their car to fetch their own CD, then towards Prince's town car to give the CD to Prince, who was sitting in the car with his window rolled down all the way. As the fan gets close, Prince looks him right in the eye and rolls the window up slowly… And then the car drove off, leaving the fan in the dust!
The only time I was ever starstruck, I must admit, was when David Mamet came in and asked me if I knew where he could find his wife, Rebecca.  All I could say was, "Dude, you're David Mamet!"  And then I told him she was upstairs looking at Gibson acoustics.
Lou: A homeless-looking dude wearing a cutoff, midriff-exposing t-shirt and swimming briefs waltzes into the store, and I was tasked with trying to extricate him. I talked to him briefly and found out that he came in wanting to buy an electric guitar, and perhaps an acoustic, too. Fifteen minutes I rang him up, and he paid the $5,000 all in cash from his fanny pack. Turns out he lived in Malibu and was just very… eccentric.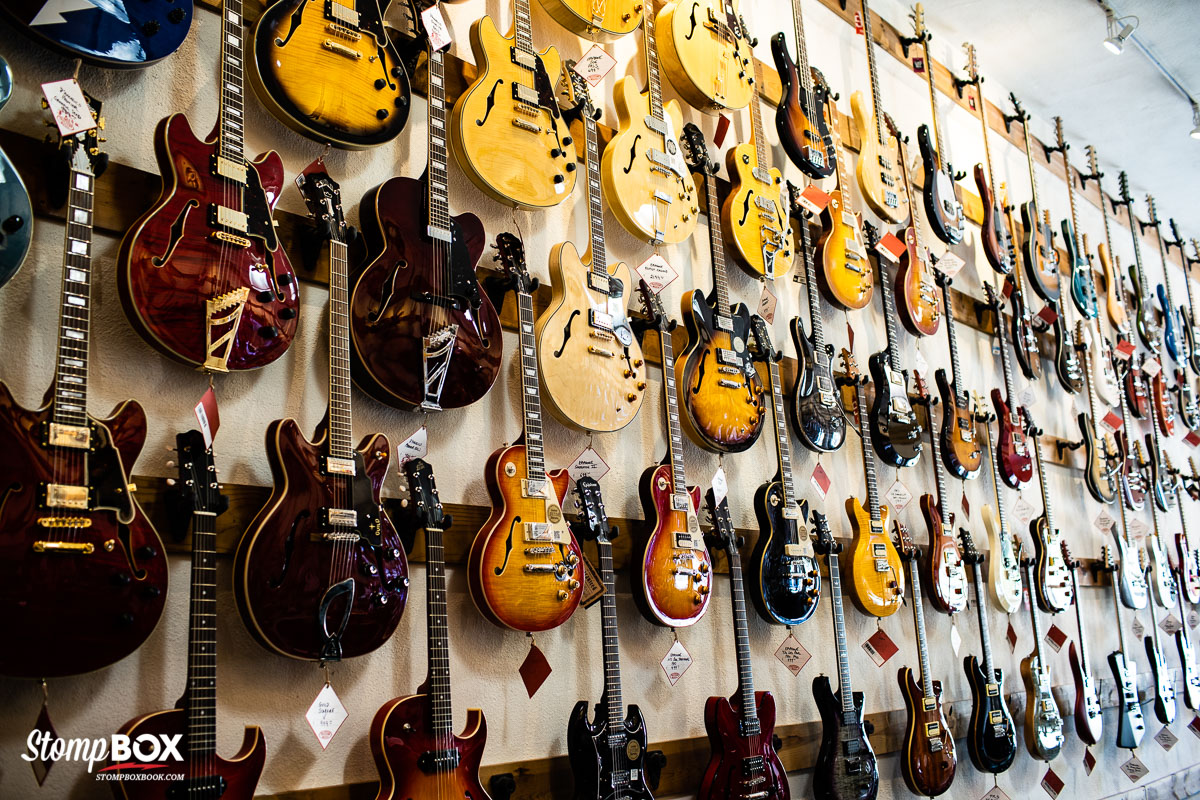 A pedal you've never seen before?
Paul: A vintage Tychobrahe Octavia. I've seen the repros, but never had the opportunity to play through an original.
Mike: I've seen just about every pedal ever made! When you go to NAMM every year, there's really no way around it. Pedal makers are an interesting breed of excitable and creative types. Truly, their number-one goal is to make your tone dreams come true. There's not a lot of money in that – unless you're a company like Strymon, who are smart, intuitive, and basically print their own money at this point.
Lou: A pedal that autocorrects tone like an iPhone does with spelling – something that fixes bad rhythm, and autotunes flat/sharp notes… And maybe turns the volume down on overeager guitar players.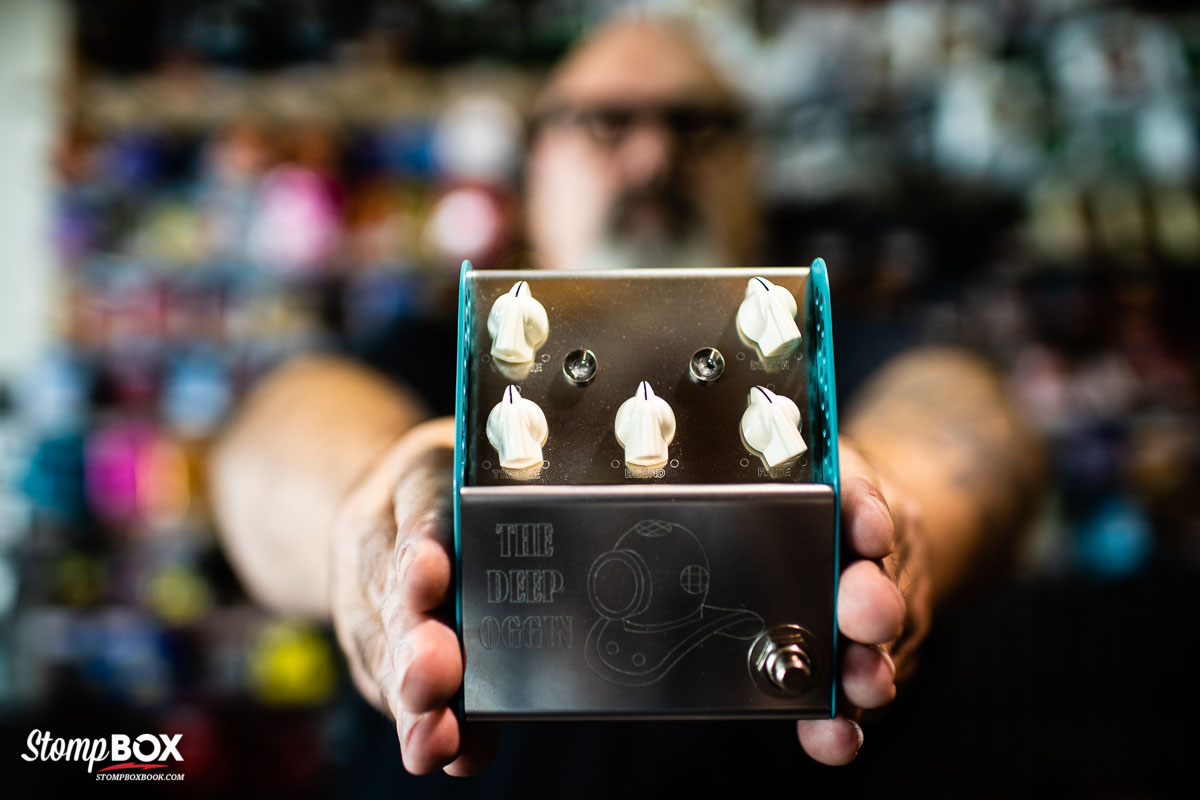 Most annoying request from customers?
Paul: "Can you play that guitar and amp over the phone, so I can hear the quality of the tone?"
Mike: We get people who don't want to plug a pedal in to hear what it sounds like, but expect us to be able to describe it perfectly for them before they buy it! And we get the home tweakers – guys who only want pedals that feature trim pots, so they can "tweak the sound at home." And we have loads of nicknames for our more annoying customers, which should give you some idea about their quirks: "The Blues Lawyers," "The Stevie Ray Yawns," "The Weekend Warriors," "Bright Hands," and the "Tonewoods Guy." We've also got "The Blues Hamsters," who will plug in and jam on a 1-4-5 progression for an hour or two.
Lou: I hate when people call and the first thing they say is, "I have a quick question"… That is never the case: the majority of the time, it's much longer than any other phone call or inquiry.
Pedals most bought?
Paul: If you're asking about the pedal I've most bought the most, I've purchased again and again over the years my absolute favorite overdrive/distortion pedal ever, the ever elusive vintage TC Electronics Booster + Line Driver/Distortion. Amazing sounding pedal!
If asking which pedal sells the most, all things Strymon. Their stuff sells like madness!!!
Mike: Fulltone OCD; Electro-Harmonix Holy Grail; Strymon Blue Sky; Dunlop Wah; BOSS DD-7 Digital Delay; Keeley Compressor; and anything by JHS and Earthquaker Devices.
Lou: It's all about trends: today, it might be Strymon, and next month it could be Chase Bliss. Musicians don't want to admit it, but we're huge hypebeasts. Anything new and shiny with some kind of cool factor, or a "cosign" from a guitar idol, usually helps it sell.
Most requested (but hardest to get)?
Paul: Klon Centaur.
Mike: Original Klon Centaurs; the 'Timmy' Pedal; vintage Maestro Phase Shifters; vintage tape delay machines.
Lou: At one point, it was old Klons. I remember we took a few orders. and usually the wait time was about twelve months; then two weeks later after buying the pedal, I remember a customer walking in and asking why his pedal doesn't sound like the holy grail of pedals… Through his Carvin amp.
Most discussed?
Paul: Lunch.
Mike: I started working at Truetone in 2007. In that time, I've noticed a big rise in pedal consumers asking for "bit commander" type pedals, where the sound is broken up and syncopated in bizarre and noisy ways. People literally walk in and ask what do we offer that can fuck up their songs.
If you could talk gear with one musician living or dead, who would it be?
Paul: Even though technically he was not a musician, I'd go with Leo Fender.
Mike: There's no one I enjoy talking shop with about music, pedals, guitars or amps more than Andy Summers. One time, we talked granularly about his vintage Roland CE-1 and Electro-Harmonix Electric Mistress – in particular, how he ran that stuff in stereo back in the '80s – for like half an hour. He's one of the most interesting people you'll ever meet. And he's still a kid when it comes to pedals and guitars.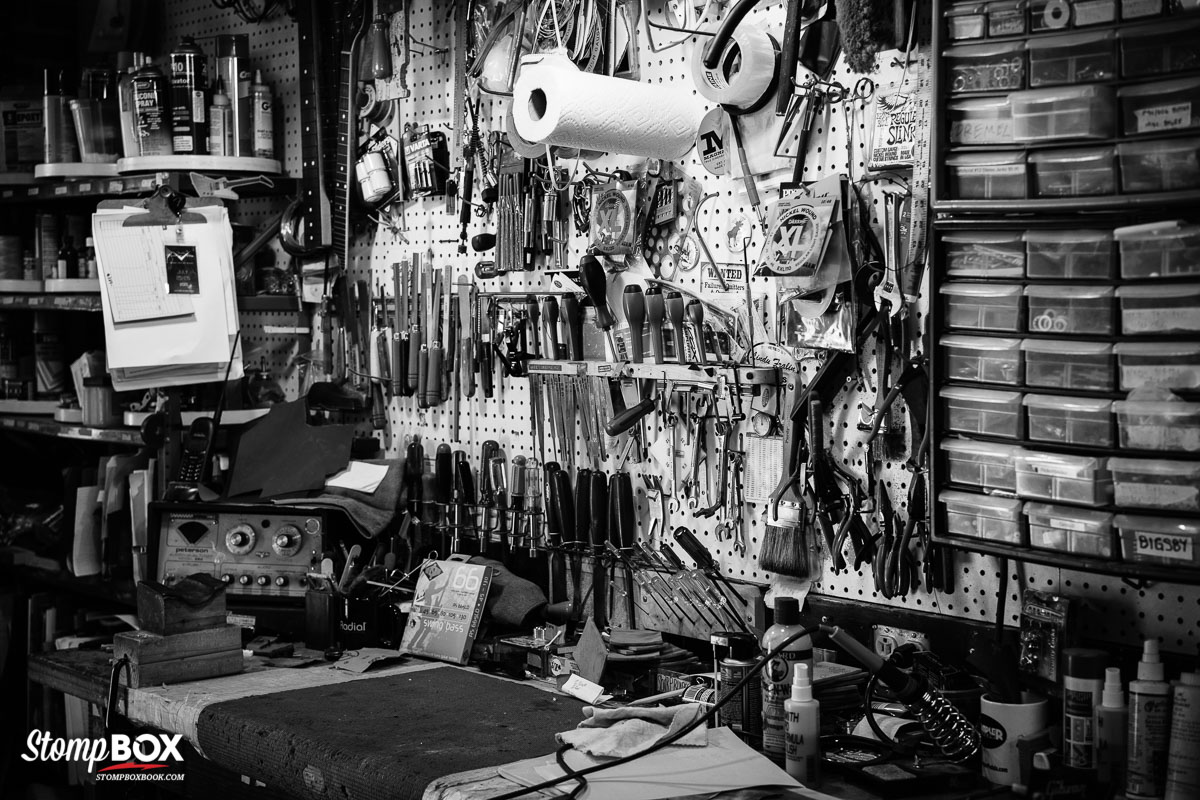 What's the best and worst part about working in a guitar store?
Paul: Best: you get the best gear at the best price. Worst: you get the best gear at the best price.
Mike: The best is you get to play a part in making someone else's dream come true. It could be hooking them up with that first guitar, or some cool, new pedal that inspires a new song, or helping someone put together their dream pedalboard. We do it all here at Truetone, and it's always fun and new. The two guys who own Truetone Music – Paul Flynn and Sunir Patel – are both musicians, and they understand musicians need an outlet other than work. They tour as well, so it's great to be somewhere where your boss is so supportive, and the environment is so exciting and creative.
The worst are people who act like they're better than everyone else, and treat the staff in a disrespectful way. I realize it's a personal problem on their part and I don't take it personally, but not everyone feels that way. So, it's the bad attitudes that can change the cool vibes of any good dynamic. But at the end of the day, the best parts far outweigh the worst.
Lou: The best part is being around musicians and learning different things about playing/writing and just being around people who think differently. The worst part is… also being around musicians: some may excel in the musical realm, but lack simple human protocols. I guess I wouldn't have it any other way. I'm not the best guitar player by any stretch, but I am extremely happy to realize how much of a normal functioning human I am in comparison.
714 Santa Monica Blvd.
Santa Monica, CA 90404
---
Get on our newsletter for book updates.