Photographing Eric Johnson | The Making of Stompbox Book
What a win that Roto was able to connect with Eric Johnson before his gig at The Boulton Center for the Performing Arts in Bay Shore, NY on his east coast leg of his tour. It all came together last minute, and once the details were fleshed out with his team, I shot off to the venue. Eric Johnson is an acknowledged master of the nuances (and pitfalls!) of nailing a great tone, a man truly invested in his sound. As he once said, "Tone is a mojo thing, like wrestling the wind, but you can't ever fully wrestle it into being your slave." His current tour revisits and celebrates his legacy album Ah Via Musicom almost 30 years later.
I often think how great it would be to just go onstage with a couple of gain pedals, a guitar and two amps. I would love to do that. But then you get into writing music where you want all these different sounds and textures, and you want to create some kind of MIDI orchestra, and so you start going down that rabbit hole…
Stage Right with EJ
I arrive before sound check, while the crew is still setting up the stage. The upside to shooting at a venue before the show is that you get to witness the technical art of how a sound is created for a show. The stage set up tells its own story of how the live performance is planned and will come together even before sound check, I love watching it all come together. Excited to do this thing, I'm ready to rock, or rather, watch Eric rock. His setup is a feat of engineering unto itself, with multiple pedal boards, several amplifiers, including a pair of 1968 Fender Bandmaster Reverbs, a mixture of Marshall heads, and a Two-Rock Traditional Clean head, to boot. It's worth noting, as Dustin, his guitar tech, explains that one should "think of it as three separate guitar rigs each with their own pedals in front. The two slim aluminum boxes on the left board are A/B selectors that switch between the rigs. All pedals are fed into the front of the amps and no effect loop methods are used.   The Electro-Harmonix Memory Man is sometimes engaged (on the already delayed) clean amp when a bigger wash sound is needed."
It's a complex and mammoth system, but as Eric explained to Roto, "I often think how great it would be to just go onstage with a couple of gain pedals, a guitar and two amps. I would love to do that. But then you get into writing music where you want all these different sounds and textures, and you want to create some kind of MIDI orchestra, and so you start going down that rabbit hole, where you've got to have these different pedal boards and different amps. And it becomes a thing. Suddenly it's this exponential thing: 1+1 equals two, becomes 4, 8, 16 . . . and suddenly you've got all these chords and plugs and power supplies, and it's crazy that it even works at all. Because the numerical odds, and the sheer alchemy of it, is pretty ridiculous . . . !"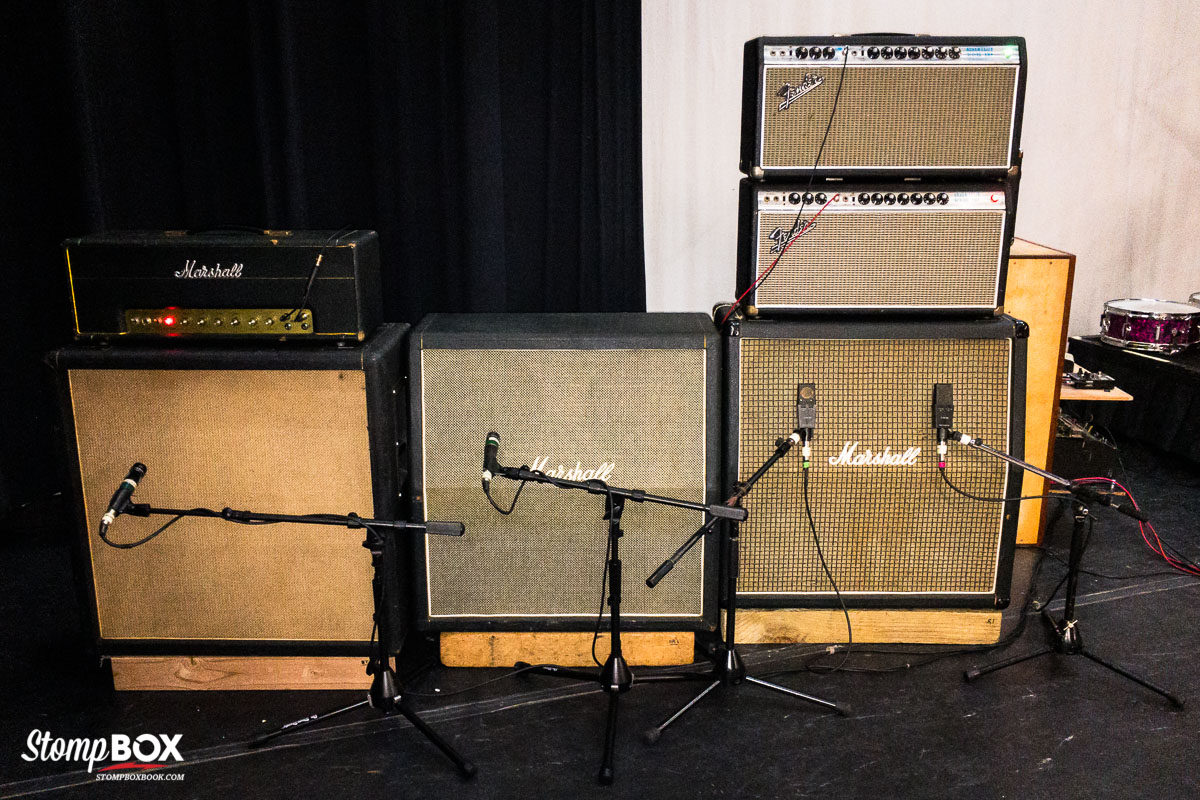 Photosynthesis
Through the interviews we've completed, we have learned to pick out some pedals of interest to suggest to the artist ahead of time. The most straightforward or sexiest pedal might be the right one for the interview, but we don't want to forget about all the other influential and important pedals guitarists use that might make a great story, but fall under the radar.
With these insights, I come to the shoot with three pedals in mind. One is the Fuzz Face which defines Eric's signature sound. I also have two others in mind, the TC Electronics Chorus, which is the actual pedal used on Ah Via Musicom, and the Electro-Harmonix Memory Man. Dustin offers up the inside scoop on Johnson's set-up and gear. His wisdom and presence adds color to the technical side of Johnson's sound, a great dude to talk to during set-up. Later on he tells he even has his own pedal manufacturing company, Tinsley Audio, including a pedal called Sir Henry, a chorus vibrato. Dustin is my go to man, answering all of the questions my curiosity can't hold back. Eric's tour manager, Gailen Henson, is also super cool and into the project. I'm enjoying sharing the Stompbox project with them in exchange for their stories and insights.
Still, Dustin gives most of the credit to Eric himself. "There is no doubt that Eric is a perfectionist to say the least," he explains. "He is always practicing to make sure the parts feel and sounds right.  Sometimes he spends rigorous hours during the day making sure every part of his rig sounds and feels right in his hands and what the audience is hearing as well. Eric really gives it his all each day to insure the show is one hundred percent."
Backstage Pass
It's an honor just to handle a player's pedal at all,  but getting to interact with one of the most important pieces of Eric's sound is on another level. I take the fuzz face out of the pedal board and head back stage to put together my portable studio- a simple set-up, that allows me to take hi-end still life shots on the road. I'm all ready to go when suddenly Eric comes in exhausted and hungry from the road, gravitating towards the vibrant fruit bowl. I distract him with a few printed page layouts I brought from the book, and the striking visual mock-ups get him excited, a trick I've come to rely on. Talking about the project is one thing, but when you see what we're going for through these powerful photos, then you get the real idea. Eric is friendly and down to earth, and his enthusiasm for the project gives me a good feeling about this shoot.
While I'm in my zone shooting the fuzz face, Dustin rolls in with an even older fuzz face that's more worn and beat up. Now, there are two fuzz face options! Will any others pop up? With two options, I can't resist but shoot them both and make the hard decision of which to choose later. They both look great on camera. The older one is a back up fuzz face with less punch and color than the current one. Handling and shooting these pedals reminds me why the stompbox is so striking, its appearance alone tells a unique story. Here's one that definitely has a long history of wear and tear, but another that is louder visually, both essential and important pieces of gear for Eric's sound. I wanted to add the Memory Man to the mix but learned that Eric is super meticulous about his set up and wouldn't want to take it out of his board before a live show, understandably. I'm happy with the two fuzz faces and now, distracted by hearing Eric Johnson play during soundcheck, I make my way  back to the stage to get some candid shots.
On stage, there are a few vintage Fender amps stacked on top of each other and I catch a glimpse of an old original Echoplex out of the corner of my eye, begging me to take a photo. I snap one and take one of his pedal board which is sort of homemade looking and pretty basic. Listening to and watching Eric play freely as he was testing the sound is a beautiful moment. He jams so effortlessly, already in his element. As a photographer and music lover, these moments are what it's all about.
One question Roto asked Eric was this: why is it that, even after years of playing shows and dialing in our sounds, does it often feel like we're still reinventing the wheel every night, trying to manage all the variables that go into a great tone. How do we minimize those variables? Eric's advice was sage, as one would expect:
"You have to research what really works," he told Roto. "And you need to listen for the way your fingers bloom off the fretboard. Listen to the quality of the picking attack. Are the pedals and the whole chain favoring your intentions when you're playing a lick, or is it fighting you? If you key into that feel, you can pretty quickly tell if something's fighting you or favoring you. What I do when I begin to find a sound that's really favoring my intentions, is I mark down everything: every setting, every cable connection, goes back exactly the same way the next time. I learned from experience. One night I would play a show and it would sound unbelievable, and the next night it would sound horrible. Why? I would realize that I was plugging different cables into pedals with different biases, different power boxes, and y'know, it would sound different every night. Once I got to where I liked it, I marked absolutely everything. And just doing that has made it drastically more consistent night to night."
It was a pleasure to meet Eric, Dustin, Gailen, and the rest of the crew. I've gained a new appreciation for his dedication to his sound and setup, seeing how an iconic album comes to life again. This is only a glimpse into Eric's genius, stay tuned for the full interview in the book. Hopefully by then I'll decide which Fuzz Face to feature!