Death by Audio | Stompbox Innovators
The Death By Audio Fuzz War is one of the more aggressive, abrasive, and gnarly fuzz pedals known to man. It was embraced by artists like Ty Segall, John Dwyer (Oh Sees), Chad Ubovich (Meatbodies), Charles Moothart (GØGGS, Ty Segall), and Cory Hanson (Wand), and can be considered the sound '00/'10s-era garage. But the Fuzz War—despite its dominance—isn't the only Death By Audio pedal. The company's output includes about two dozen models, which also embody that same edgy, unpredictable, hard-to-tame spirit. 
Oliver Ackermann, whose day gig is as guitarist in the NYC-based band, A Place To Bury Strangers, founded Death By Audio in the early 2000s. His first pedal was Total Sonic Annihilation, a controllable feedback looper that causes pedals to cycle back on themselves, and since then has continued in that same playful spirit of tonal obliteration. The company was based in Brooklyn for almost a decade—and its headquarters doubled as a popular alternative performance venue—but relocated to their current pedals-only location in Queens in 2014. 
We spoke with Ackermann about his adventures discovering new tones, his feelings about digital technology, and about the importance of using artwork that makes the pedal's function obvious. 
How did you get your start building pedals?
As a [DIY] musician, we are always recording our own records, releasing them ourselves, learning every avenue of how to get out there to play shows, and book tours—one avenue of that was recording our own music and making some of our instruments. I was always searching for sounds that I wanted to hear and create. I started building effects pedals, recording equipment, amplifiers—that was just an element of it. The pedal company started in 2001/2002. I wanted to go on a vacation with a girlfriend, go to Europe, backpack for a month, and I didn't have any money. I was living in a warehouse in Virginia, and I just needed to raise some money really quick. I thought, what sounded cooler then a pedal company called "Death By Audio?" I released this effect that nobody had come out with before, called Total Sonic Annihilation, which is like a forced feedback looper, and that started it all.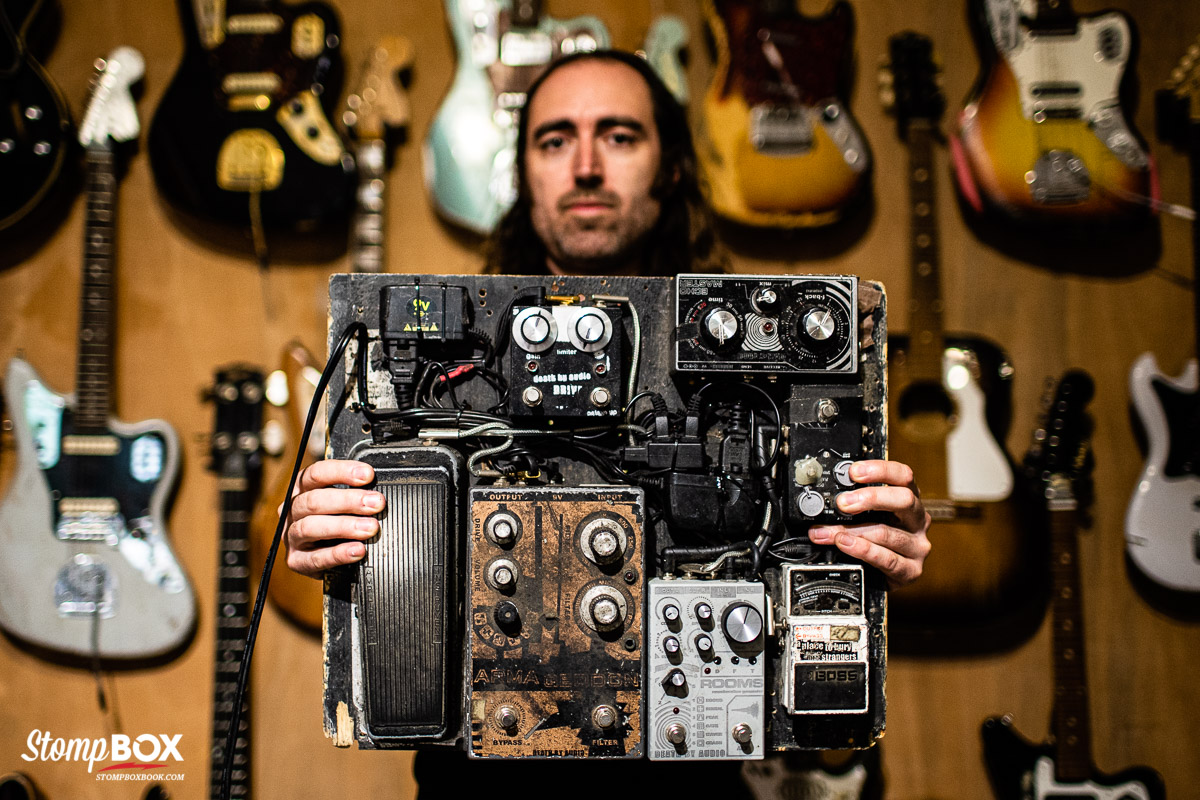 Is that also the pedal that put the company on the map or was there something else?
I think when we came out with the Fuzz War, there were a lot of people that really loved that pedal. It is a really thick, sustain, distortion pedal. There were a lot of people like John Dwyer and Ty Segall, who loved the pedal and pushed it out there as part of their main sound. I think that really helped. It's a good pedal where it's clear, but yet it's filled with lots of feedback and sustain. It was a fuzz sound I always loved and I wanted to make it even better. I spent years of my life trying to figure that out, and eventually I did.
Who's to say what creates better results in music? It can be anything, you never know.
How has the pedal game changed over the years and has that impacted the way you work or how you design pedals?
There are a lot more people doing it. A lot of people realized that as technology got easier to get your hands on—and there is a lot more information available on the internet—that almost anyone can build some effects or have a hand in doing it, if you really want to do it. A lot of people fell in love with that, so now there are a lot more pedal designers out there. It's interesting what that has turned into, where people go with how they design effects pedals. It's become a lot more technical. It changes the scope of what sounds people are making. As a designer, that makes you focus on wanting to make something that nobody else is making. As other people take these different avenues and create things that they've spent their life's work on developing, you don't necessarily want to go down that same route. You are always looking for different creative takes or different interesting places where nobody is doing anything in the industry. I think it just makes everything better. There is more friendly collaboration, more knowledge—you can take the pedal game and the effects game to unchartered places, which is exciting as a designer. 
You don't do much with clones.
I randomly have made some clones. A long time ago, I used to build any custom pedal anybody wanted, and some of those were clones, like a Univox Uni-vibe. You'd really have to search hard to find the right transistors. As a player you realize that there's more to it than the circuit that makes something sound so great. That can be fun, but I always just figured, if someone else is out there making these clones—someone else has made this thing—why not just buy whatever it was that they're trying to clone? But there's still something interesting about the knowledge. I'll still sometimes look up a circuit that I think is really inventive and look at how it works, because that is exciting. But I don't think there's necessarily a need for 10 different clones of the same pedal. 
But you'll rip open old effects to see how they work and what you can learn from them?
For sure, sometimes we do that stuff. Over here at the pedal shop there are always a bunch of us working on different things. Some people are into that, like old delay chips. We'll always open that stuff and see what they were using or how they did it—that nerd curiosity.
Do you use digital in your devices or are you an analog purist?
We use both, but almost all of our stuff is analog. I am no purist, just whatever sounds the best and is the coolest, and then try to create the ultimate results. There's no shame in using digital and in a lot of instances, I've heard things which are digital, but they sound way better than anything analog. A lot of time, it's easier to get a good sound using analog. There is a lot of interesting forgiveness and the ways things glitch out in interesting ways. I like a lot of those things, but there are also rad cool things you can do with digital stuff. I don't really care as long as you're making the sounds that you want to make.
Do you use digital in some of your pedals?
There are a couple of products which use digital things, like the Robot uses this lo-fi, 8-bit chip to change the pitch. More recently, I've been programing a few things, which are these crazy reverb programs, I guess we'll see. I think we're starting to get someplace close. But who knows?
What are your thoughts on certain trends in the industry, like pedals getting smaller?
I see where people are coming from and that definitely makes sense, where you want things that fit and you can readapt to your ever-changing use, or if you're a musician who just wants to carry your effects in your backpack, and travel around. There's definitely ease of things being lighter and smaller. But there's also something really nice about putting your hand on a big knob, turning it, and having something crazy happen. I think that both of those are always going to be attractive to people. We try to make things as small as we can sometimes, but sometimes we try to make them as big as we can. I think that depends on whether the effect is something that is going to make sense as a center piece of control, or if it's an effect which is designed to be some small thing which augments whatever you are already doing. Some things are just more conducive to being larger, and you can be more expressive as a human interacting with that. Maybe it's something you want on a table top, it is more fiddle-y, and you want all those different options and control. You just take those things into consideration when you're designing them and building them. I think people lose sight, or at least a lot of people do, they lose sight of what it is to be a musician and performer. They just want to fill their boards with all this stuff, but they don't even know what the heck it is. If that's the case, then it's good to have it all small—because you keep on changing it around, or arrange the colors in a rainbow, or do whatever you want to do. But who's to say what creates better results in music? It can be anything, you never know.
Has manufacturing changed? Are you still building on-sight and by hand?
As the years go on, we get ourselves more involved with different sorts of custom parts. Those are done with things that are made off-site. We try to not use toxic chemicals and do whatever we possibly can. But there's always a battle between what you can make happen, what actually works, and what's affordable. We still build all the effects here, on-site, but things are getting crazy. We've had certain custom molds made from people who manufacture things in China, for instance, and now with these tariffs, it's crazy to be paying extra on top of the tariffs that were already there. It changes, and things are getting more expensive. Many of these parts are getting more expensive in general. We just adapt and figure out smarter or crazier or creative ways to make all this work.
What types of things are getting more expensive?
Really everything. Everyone is feeling the pinch of these things. Even if these things aren't being made in China. We have things that come from Canada, or even the US, but people are afraid of what's going on and the price of everything is skyrocketing. Maybe they get their steel from China. I am not sure how some local company may work, but I think that people are feeling the impact. That's just the nature of things, things get more expensive as time goes on. You're combating that stuff constantly, but it just makes it more fun and creative to try and push and get more products out there.
How many people are on your team building pedals?
There are four of us building pedals.
You are still building yourself?
Not that much. I do more streamlining operations or designing for the most part, or just figuring out graphical randomness.
You do the R&D yourself?
Yeah. We do that. We also give pedals out to people and have them try them out. But being in a band that travels around, we really get the option and opportunity to try this stuff on the road. To test out how many guitars can slam into it and how long it lasts. What it sounds like through different amps. 
How about the artwork? Do you look at the artwork as ornamental or does it serve a practical function as well?
I think about the function of what the pedal does. We make these graphics to interact with and to let someone know, to make it easy for them to use the effect. That is important, especially when people have a lot of effects pedals. If all of a sudden, you pick this thing out of your closet, if it just looks like Control 1 and Control 2, that could be confusing. That could be done on purpose and maybe you want the control to be like that, but a lot of times, it just becomes more confusing. The other thing is to make it exciting. To make someone want to use this thing. We want to inspire someone to create something crazy and fucked up with their pedals.
(Slideshow: hover or click for captions)
---
More exclusive content from our interview with Oliver Ackermann will be featured in the Stompbox Book, coming summer 2020. 
Get on our newsletter for book updates.